Hi! I swore I would never blog again, but oh, the things I will do for
Megan McCafferty
. See, La McCafferty is one of my favorite authors ever, and I've read a lot of good shit, like Russian shit, French shit, British shit, the Great American shit, etc. I've also read a lot of crap (different from shit), so maybe you shouldn't listen to my taste in books, but mostly I read the good shit. And HRH McCafferty writes the good shit. I never knew that my heart had room for another fictional character after Mr. Darcy, but then came Marcus. Marcus Flutie. Don't you love how his name sounds, the way your lips and teeth come together on the "F" of "Flutie" the same way you'd love for him to nip your lip? The way your tongue darts forward for the "L," hoping to meet unknown warm and wet?
Soon enough, Marcus Flutie had pulled a baby cuckoo maneuver in my heart, pushing out the little Mr. Darcy feelings in my heart-nest and replacing them with his own. Now my heart is filled with nothing but Marcus Flutie, as far as fictional characters go. He is the Alpha, the Krispy, and the Omega. He is the Barry Manilow toilet seat, the empty Danon yogurt container, the lip gloss all over your face after a public bathroom macking session. He is the master of the lasso dickery. He is, simply, Marcus.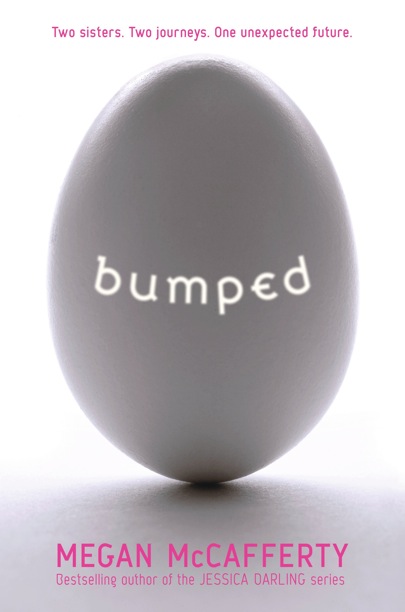 And now that the
Jessica Darling books
have come to an end, Dame McCafferty has undertaken a new endeavor:
Bumped
, a "funny, dystopian" two-book series about a world in which the only people able to get pregnant are teenagers. Anyone who has seen the endless MTV marathons of "16 and Pregnant" knows that the American teenager is ridiculously fertile. Producing no semen of my own, I feel as if even I could probably get an American teenager pregnant just by baking her a quiche. This story is particularly pertinent to me as I am in my mid-thirties and as barren as James Carville's shiny pate. I've been undergoing fertility treatments that have, to date, made me only fat, cranky, and childless.
I don't know where the story will go, but I do know that I want to read it as soon as possible, which is where you come in. Her Holiness the McCafferty has said she will
give away
ARCs of
Bumped
to people who blog about the book. LOOK AT ME, BLOGGING ABOUT THE BOOK!
I'M BLOGGING! I'M BLOGGING! ABOUT THE BOOK!
PRE-ORDER THIS BOOK! BUY THIS BOOK! WILL ALL YOUR WORLDLY POSSESSIONS TO MEGAN MCCAFFERTY!
And now, a tap dance.
*tappity tappity tappity*
Thank you, and good night.